At PKDERM, we are committed to providing comprehensive in vitro safety testing services that enable our clients to assess the safety of their products efficiently and effectively. Our range of safety tests covers various aspects, from skin and eye irritation to sensitization, phototoxicity, cytotoxicity, and the evaluation of endocrine disruptor properties.
Skin Irritation:
PKDERM offers in vitro skin irritation studies that adhere to OECD TG 439 guidelines. Our tests are based on reconstructed human epidermis (RHE), and we employ a rapid and cost-effective method for evaluating skin irritation. Specifically, we measure lactate dehydrogenase release in the culture medium, providing valuable insights into potential skin irritation effects. Furthermore, PKDERM has obtained certification to perform skin irritation tests with medical devices extracts, according to the requirements of ISO standards 10993-23:2021, ensuring the safety and compliance of these products.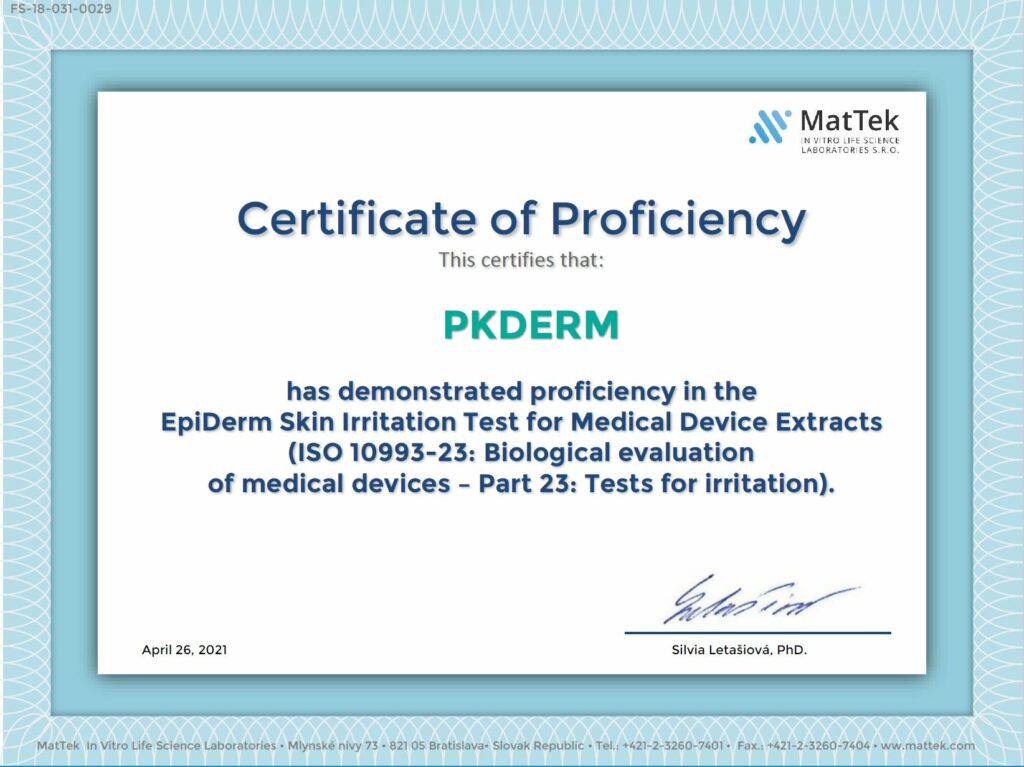 Eye Irritation:
For eye irritation assessments, we utilize the reconstructed human Cornea-like Epithelium (RhCE) in accordance with OECD TG 492 guidelines. This procedure allows the identification of chemicals (substances and mixtures) not requiring classification and labelling for eye irritation or serious eye damage in accordance with UN GHS.
Sensitization:
PKDERM has established a strategic partnership with SenzaGen, a leader in the field of skin sensitization testing. Our collaboration includes the use of the GARD® Skin assay according to OECD TG 442E. The GARD assay is a genomic assay that measures changes in the expression of 200 genes relevant to skin sensitization adverse outcomes pathways. This advanced approach ensures thorough and accurate assessment of sensitization potential. In addition the GARD assay can be applied to medical devices and to "difficult to test" samples for assessing potential allergenicity.
Phototoxicity:
In our phototoxicity testing, cells are exposed to both the compound being evaluated and UVA light. We employ a specific assay to measure toxicity, comparing the results with those obtained from cells exposed only to the compound. This assessment helps identify potential phototoxic effects, and is conducted according to OECD TG 432.
Cytotoxicity:
Our cytotoxicity testing includes assessments using methods such as MTT (3-(4,5-dimethylthiazol-2-yl)-2,5-diphenyltetrazolium bromide), LDH (lactate dehydrogenase), and live/dead imaging assays. These tests are vital for evaluating the toxicity of products or compounds on cells and tissues.
Evaluation of Endocrine Disruptor Properties:
PKDERM is proud to partner with Watchfrog, a leader in endocrine disruptor testing. This partnership enables us to evaluate the endocrine disruptor properties of compounds and products, ensuring a comprehensive assessment of their safety.
Collaborative Partnerships:
Our commitment to scientific excellence and innovation is reflected in our ability to offer a wide range of safety assessments, supported by our collaborative network of experts. Through these strategic partnerships, we've established an European Consortium focused on delivering complementary testing solutions, ensuring the safety of consumer products and providing our clients with the most relevant and comprehensive testing services.
With PKDERM, you can trust that your product's safety is in capable hands. We are fully dedicated to delivering accurate, timely, and reliable safety assessments, allowing you to make informed decisions and bring safe products to market.